There are over a dozen ways in which an NHL team can be successful. Some ways are obvious: scoring a lot, not getting scored on and dominating on special teams.
Other methods are less obvious, but can be just as effective: blocking shots, staying out of the box or even dominating shootouts.
For any given team, a certain statistical category can be their backbone or their Achilles heel. A stat can also, depending not only on the importance of the stat but also the team's style of playâ€"be relatively irrelevant.
While San Jose would do well to block shots, get takeaways and dominate four-on-four overtime, here is a look at six statistical categories that San Jose can ill-afford to falter in, with predictions of how well they'll perform during the coming season.
Goals For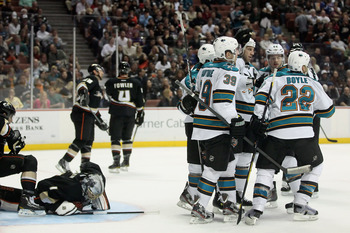 Jeff Gross/Getty Images
Last year's team saw a drop-off in goal scoring. After scoring 3.06, 3.13 and 2.96 goals per game during the previous three seasons, the 2011-12 Sharks scored only 2.67 goals per game. This left them 13th in the NHL.
All signs point to a move back up the ladder in the coming season. The return of Martin Havlat and re-aligning of the defensive pairings should bring the teams goals per game up moderately, but the real difference will be due to an improved penalty kill.
A better penalty-killing team will be a more aggressive team, meaning not only a higher-scoring team five-on-five, but a team that gets more power play opportunities. The power play itself will remain elite.

Projected 2012-13 Numbers
Goals per game: 2.92
League rank: 8th
Goals Against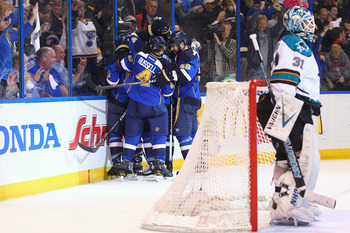 Dilip Vishwanat/Getty Images
Despite efforts to become a tougher team to score against last season, the Sharks finished in their usual range in terms of goals against per game. Their 2.50 goals against per game placed them eighth in the NHL, similar to their 2.54 (10th) and 2.55 (eighth) totals from the previous two seasons.
This was primarily due to a weakened penalty kill, less because they allowed more power play goals and more because they played more timidly on the defensive end, afraid to go to the box.
The team's weak third-pairing on defense didn't help either.
An improved penalty kill will be the first step to becoming the defensive juggernaut San Jose is trying to become. If the PK indeed improves, then the addition of Brad Stuart to the blue line, Adam Burish to the fourth line and Larry Robinson to the bench should make San Jose an elite defensive team again, a la their 2008-09 President's Trophy campaign.

Projected 2012-13 Numbers
Goals against per game: 2.34
League rank: 4th
Power Play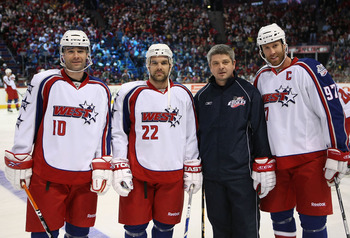 Bruce Bennett/Getty Images
San Jose's goals per game dropped significantly last season, but it wasn't for lack of a dynamic power play. The Sharks finished second in the NHL at 21.1 percent, their fourth straight season above 21 percent and among the top four power plays league-wide.
There's absolutely no reason to believe San Jose won't continue to dominate a man up this season. Todd McLellanâ€"the coach who started the four-season streak of elite Sharks power playsâ€"is still the man in charge, Joe Thornton and Dan Boyle are still the men directing traffic on the ice, Patrick Marleau, Logan Couture and Joe Pavelski are still the men one-timing shots and Brent Burns and Martin Havlat only make the unit that much scarier.

Projected 2012-13 Numbers
Power play efficiency: 22.4 percent
League rank: 1st
Penalty Kill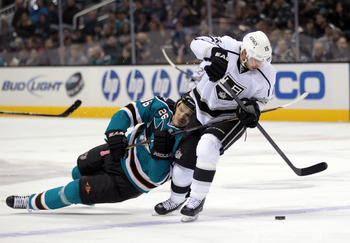 Ezra Shaw/Getty Images
Here's the big one.
If you've read my other workâ€"or that of just about every other writer covering the Sharksâ€"you know that an improved San Jose penalty kill is a prerequisite for any sort of real success they'll enjoy this coming season.
Improving won't be hardâ€"the team finished 29th in the NHL last season, killing just over three out of four penalties (76.9 percent). This means that there were two teams in the NHL whose penalty kills were literally twice as good as San Jose's.
The Sharks have added penalty-killing talent in Brad Stuart, but personnel is not the issue. The issue is systematic, and luckily they've addressed that as well, adding Larry Robinsonâ€"the man behind New Jersey's NHL-best, twice-as-good-as-San Jose's PKâ€"to the coaching staff.
A broken system takes time to fix, but with San Jose's personnel, coaching and obvious need to improve, a return to respectability is likely.

Projected 2012-13 Numbers
Penalty kill efficiency: 82.5 percent
League rank: 16th
Faceoff Percentage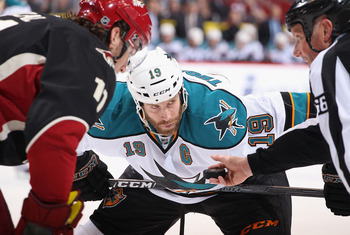 Christian Petersen/Getty Images
Faceoff percentage may not seem like a major statistic, and to most NHL teams, it isn't. Last season, 26 of the league's 30 teams finished within 4.5 percentage points of each other, which means about than one extra faceoff won or lost every 22 faceoffs. That's less than a draw per periodâ€"a difference hardly comparable to the difference between a penalty kill that kills twice as many power plays as another.
However, expand that group of 26 to all 30 NHL teams, and the difference nearly doubles. And while that middle group featured the two Stanley Cup finalists, the underachieving Sabres and the dreadful Blue Jackets, the four teams at the extreme ends certainly felt the impact of faceoffs.
The top three teams were Boston, San Jose and Vancouver. The bottom team was Calgary. The previous season saw Carolina and Edmonton finish far below the rest of the league, while San Jose and Vancouver finished far ahead.
Winning draws is a major part of San Jose's puck-possession style of play, and they have won not only games, but playoff series because of it.
With Joe Thornton, Joe Pavelski, Patrick Marleau, Logan Couture, Michal Handzus, Adam Burish and Andrew Desjardins spread across four lines (and needless to say, bunched together as well), the Sharks will have an either an elite, very good or above-average drawman in the circle at all times.

Projected 2012-13 Numbers
Faceoff percentage: 53.9 percent
League rank: 2nd
Hits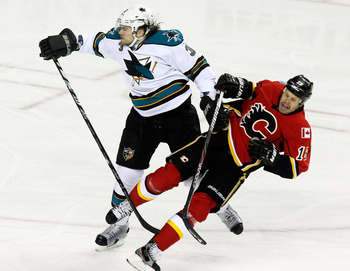 Mike Ridewood/Getty Images
Hits are, admittedly, not all that important of a team stat. Like faceoff percentage, a team's league ranking in hits doesn't correlate to their record. While a hit often helps a team in some small way, it is just as often done as a next-best option to actually possessing the puck.
However, San Jose's 1565 hits last yearâ€"good for 27th in the NHLâ€"is a problematic statistic. While there isn't necessarily a correlation between hitting and winning, there is a strong correlation between hitting and size. The Sharks are the NHL's second-biggest team, and finished in the bottom part of the league for the first time since the lockout.
The Sharks' lack of physicality was in large part due toâ€"you guessed itâ€"their fear of committing a penalty, but improved PK or not improved PK, San Jose must take advantage of their size. Having a bigger roster means having a slower roster, and a slow team that doesn't punish their opponents physically is not going to win a Stanley Cup any time soon.
The addition of Brad Stuart will increase the team's hit totals, as will an increased role for T.J. Galiardi and Tommy Wingels. If the penalty kill improves as I have predicted, San Jose's hit totals should climb considerably.

Projected 2012-13 Numbers
Total hits: 1844
League rank: 15th
Begin Slideshow
Keep Reading

San Jose Sharks: Like this team?