The success of a team is based upon much more than the sum of its parts.
Great teams come together in ways that mask their deficiencies, while other teams can fall apart in ways that mask their strengths.
With that being said, guessing which teams will come together and which will fall apart is impossible to do during the offseason. Every team has different players and/or coaches than they did last season, meaning every new group has a chance to gel or repel in unpredictable ways.
Given that, the most concrete measure of a team that is currently possible is an analysis of the roster player by player.
But we don't have the time or patience for that, so the next best thing is a unit-by-unit breakdown, relative to other units around the division and conference.
Top Six Forwards

Thearon W. Henderson/Getty Images
San Jose has had an elite group of forwards ever since midway through the first post-lockout season, when general manager Doug Wilson brought in the then-NHL's best center, Joe Thornton.
Thornton is still one of the top centers in the world, and the Sharks' top six is still one of the NHL's strongest units.
Scoring is not a problem, as Patrick Marleau, Joe Pavelski and Logan Couture all netted 30 or more goals last season while Thornton, Martin Havlat and Ryane Clowe are each averaging over 20 goals during the last four seasons when healthy.
Defensively, Couture, Pavelski and Thornton are all savvy and committed, while Marleau and Clowe are positive own-zone forces as well.
The top six has average speed, with everything from speedsters like Marleau and Havlat to lumberers like Couture and Clowe. The unit is the NHL's best in the faceoff circle, as Thornton, Pavelski, Couture and Marleau were all well above 50 percent last season.

Where they rank
First in the Pacific Division
Third in the Western Conference (VAN, CHI)
Bottom Six Forwards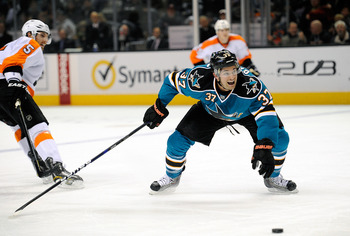 Thearon W. Henderson/Getty Images
Last season, a lack of depth scoring plagued San Jose during the season's second half and into the postseason, and even the team's high-powered top six and power play couldn't compensate.
The drop-off is obvious on paper: the Sharks weakest top-six forward offensively is Ryane Clowe, and their best bottom-six forward offensively is Michal Handzus. Handzus outscored stay-at-home defenseman Marc-Edouard Vlasic by one point last season.
While the Sharks depth forwards will provide less offense than most units around the league, they are stocked with quality defensive players like Handzus, Adam Burish and Andrew Desjardins, along with big-hitter Tommy Wingels.
The bottom six will bring average speed, with the fastest skater being T.J. Galiardi, the slowest being Handzus and everyone else being above-average or average. They are elite in the faceoff circle, with Desjardins, Handzus and Burish all well above 50 percent last season.

Where they rank
Third in the Pacific Division (LA, PHX)
Ninth in the Western Conference (VAN, STL, PHX, NSH, CHI, LA, COL, MIN)
Top Four Defenseman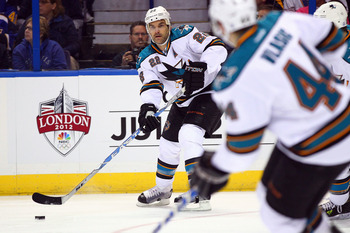 Dilip Vishwanat/Getty Images
The Sharks had a quality top four last year, but they were not the elite unit that was needed to stop deep offensive teams.
This year, however, they look to be just that. Dan Boyle and Brent Burns are both elite puck-movers and scoring defenseman, while Brad Stuart and Marc-Edouard Vlasic are quick and skilled enough offensively to provide support.
Both Stuart and Vlasic are also defensive rocks who can both stay at home as well as recover, allowing Burns and Boyle to be very aggressive. Burns and Boyle are also very smart in their own zone, making this unitâ€"whomever ends up playing with whomeverâ€"as good a top four as you'll find in the NHL

Where they rank
First in the Pacific Division
First in the Western Conference
Depth Defenseman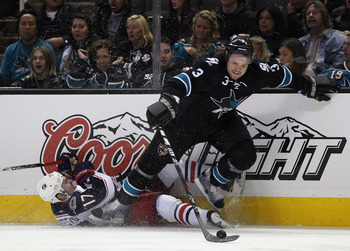 Ezra Shaw/Getty Images
San Jose's third pairing was a weakness throughout the 2011-12 season, and their depth beyond that was even worse.
But with the departure of Colin White and Jim Vandermeer, along with the addition of Douglas Murray to the bottom unit, San Jose's third-pairing and reserve defensive unit has done a complete 180.
Justin Braun is an elite third-pairing defenseman, combining great offensive instincts with responsible defensive play. He could break out offensively this year alongside Murray, who's one of the league's most intimidating physical forces and probably the best defensive No. 6 defenseman in the NHL.
With Jason Demersâ€"a youngster with the offensive skill and potential to crack a weak team's top fourâ€"as the No. 7 defenseman, San Jose has the rare ability to dress seven quality blueliners, or fill in for an injured defenseman and not lose much at all.
The only weakness of this unit is lack of an experienced reserve, but that won't significantly impact the team barring major injury problems.

Where they rank
Second in the Pacific Division (LA)
Third in the Western Conference (VAN, LA)
Starting Goaltending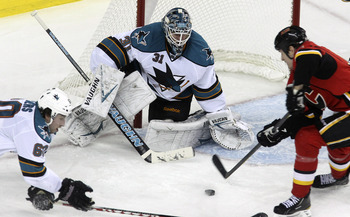 Mike Ridewood/Getty Images
There were times last season (and throughout his career) that Antti Niemi has looked like a top-five NHL netminder, and there have been times where he looks like he isn't a true No. 1.
Niemi is closer to the former than the latter. He won a Stanley Cup as a rookie, has put up quality numbers in his two seasons despite heavy workloads, and battles back from bad goals in a way that few goaltenders do.
He has an above average glove and is excellent at closing up the five hole. He isn't a great puck-freezer or rebound controller, but Niemi battles to keep second and third chances out of the net even if better goaltenders wouldn't have allowed them to happen.
Niemi is good in the shootout, but weak on the penalty kill. His consistency was his biggest strength before last season, when he had significant ups and downs. If he can regain his consistency, he'll be a near-elite goalie. If he cannot, he'll simply be above average.

Where they rank
Fourth in the Pacific Division (PHX, LA, ANA)
Seventh in the Western Conference (VAN, PHX, NSH, LA, CGY, ANA)
Goaltending Depth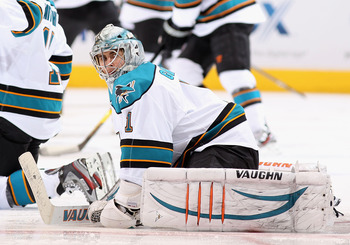 Christian Petersen/Getty Images
Thomas Greiss had a quality season backing up Antti Niemi last season, although his playing time was limited.
Greiss matched Antti Niemi's .915 save percentage. and outdid him in goals against average, but did so in only 14 starts and 19 appearances. Greiss looked confident in net and was strong with the glove, although he looked slightly leaky at times.
Greiss didn't post a shutout but was more consistent than Niemi, although of course Niemi often played tired. Ultimately Greiss appears to be a good option moving forward, but it remains to be seen how he'll adjust to more playing time (something coach Todd McLellan will likely give him).
Should injury occur, the Sharks have an excellent option in the AHL in Alex Stalock, a young goalie that some think has NHL-starter potential.
Where they rank
Second in the Pacific Division (LA)
Seventh in the Western Conference (VAN, STL, LA, COL, MIN, CBJ)
Where Does That Leave the Sharks?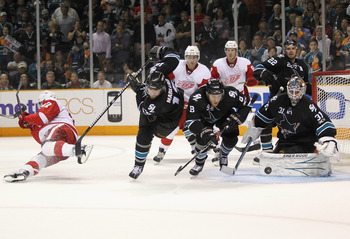 Ezra Shaw/Getty Images
Once again, it's impossible to project how these players and units will come together come the actual season, which leaves this type of analysis marginally important at best.
Still, given the Sharks six major units and where they fall in comparison to other Western Conference teams, a couple things are apparent:
-The Vancouver Canucks and Los Angeles Kings are clearly better than San Jose, ranking ahead of the Sharks in most categories.
-The St. Louis Blues, Phoenix Coyotes and Chicago Blackhawks all look to be in San Jose's category on paper, and could once again keep San Jose down in the standings.
-The Colorado Avalanche and Minnesota Wild should not be ignored.
-The Sharks appear to be definitively better than the Detroit Red Wings and Nashville Predators, two teams that finished ahead of them last season.

Given that, here is a preliminary prognostication of where San Jose will finish, based upon this article's unit rankings and giving priority to the top six, top four and starting goalie rankings:
Vancouver Canucks
Los Angeles Kings
St. Louis Blues
San Jose Sharks
Chicago Blackhawks
Phoenix Coyotes
Minnesota Wild
Detroit Red Wings
Colorado Avalanche
Nashville Predators
Calgary Flames
Dallas Stars
Anaheim Ducks
Edmonton Oilers
Columbus Blue Jackets 
Begin Slideshow
Keep Reading

San Jose Sharks: Like this team?