Four years ago, the San Jose Sharks brought in a new head coach in Todd McLellan. The reason was that general manager Doug Wilson and the Sharks' front office felt that their roster was more talented than the team's playoff resultsâ€"three straight second-round lossesâ€"indicated.
McLellan, the former Detroit Red Wings assistant, was brought in because of his winning pedigree and offensive expertise. But bringing McLellan to San Jose didn't improve the Sharks alone; Doug Wilson also bolstered his roster to fit McLellan's offensive-minded, puck-possession-based system.
Wilson brought in two excellent offensive defensemen in Dan Boyle and Rob Blake, and the team went on to win the Presidents' Trophy in McLellan's first season. After a disappointing first-round loss to Anaheim, the Sharks further groomed their roster to fit McLellan's style, adding power forward Dany Heatley and faceoff specialists Manny Malhotra and Scott Nichol.
The next two editions of Todd McLellan's Sharks went to the Western Conference finals. However, they came up short to faster, better defensive teams both times, so San Jose spent the 2011 offseason attempting to change their identity.
Doug Wilson moved dynamic goal scorers Dany Heatley and Devin Setoguchi for an All-Star blueliner in Brent Burns and a speedy, playoff-savvy winger in Martin Havlat. Gone were puck-possession players like Heatley, Kyle Wellwood and Scott Nichol, and in came defensive-minded players like Michal Handzus, Daniel Winnik and Dominic Moore.
Changing the team's identity wasn't a bad ideaâ€"it was simply poorly executed. Because as Doug Wilson made his roster more and more defensive-minded, it became less and less like a roster that Todd McLellan and his staff could take full advantage of.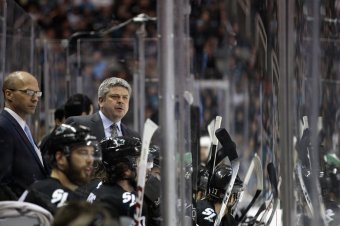 Ezra Shaw/Getty Images
This led to a huge regression in 2011-12, as San Jose won only 43 games, failed to win the Pacific Division for the first time under McLellan and were eliminated briskly in Round 1 by a team that was, once again, better defensively and faster.
Wilson could have made massive personnel changes to San Jose's roster this offseason. He could have lost to the Blues and said that the Sharks needed more speed, more goal scoring and better penalty killers. But that would have been another offseason wasted, ignoring the real problem.
Luckily, Wilson wised up. He made some nice roster tweaks, bringing in a much-needed top-four defensemanâ€"Brad Stuartâ€"at a bargain price and adding gritty, consistent checking-line forward Adam Burish. 
But the Sharks' biggest offseason move was not the acquisition of a player. Rather, it was the signing of Larry Robinson, an assistant coach who could help San Jose maximize its roster's potential.
Robinson is a former NHL defenseman, and a formidable one at that. His size (6'4", 225 lbs) and skating ability made him a dangerous two-way weapon, as he consistently put up between 10 to 20 goals, along with 30 to 60 assists. Robinson played primarily with the Montreal Canadiens, although he played for the Los Angeles Kings for the final three years of his 20-year career.
Robinson finished his career with 207 goals, 751 assists, 958 points and six Stanley Cups. His 20 consecutive playoff appearances was the all-time record until Nick Lidstrom tied it in his final season (last year).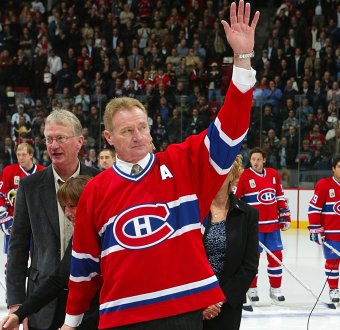 Dave Sandford/Getty Images
Directly after his retirement from playing, Robinson became the New Jersey Devils assistant coach in 1993. After the Devils won the Cup in 1995, Robinson left to become the head coach for Los Angeles. In 1998, he went back to New Jersey as an assistant.
Late during the 1999-2000 season, Robinson became New Jersey's interim head coach. Three months later, they won the Stanley Cup. Under Robinson, they returned to the Cup Final the following season. Robinson was fired the next year, but he was brought back during the 2002-03 season, which saw New Jersey win another Cup.
Robinson has been behind New Jersey's bench off and on since then, and he was an assistant coach last season when the Devils lost toâ€"ironicallyâ€"the Kings in the Stanley Cup Final. He was the man in charge of New Jersey's NHL-best penalty kill, and his aggressive defensive philosophy helped the Devils power their way to the Cup Final.
Clearly, Robinson brings a ton of credentials to San Jose. He has won nine Cups as a player and coach, has dominated three zones on the ice, has ran the NHL's best penalty kill and has a penchant for turning blueliners into potent two-way forces.
The Sharks desperately needed someone just like this.
As a player, Robinson used his big frame and rare mobility to his full advantage, and he could help Brent Burns break out in San Jose. He could also help young defenseman Marc-Edouard Vlasic take the step from a No. 3 to a No. 2 D-man, and Justin Braun and Jason Demers become the top-four guys that they have the potential to be.
The emergence of Burns and development of the youngsters would allow Dan Boyle's ice time to drop, keeping the playoff-savvy veteran fresher for the 2012-13 playoffs.
What will Larry Robinson's Impact be for San Jose?
What will Larry Robinson's Impact be for San Jose?
Slightly improved PK and Defense

Much-improved PK and Defense

Improved PK and Defense, leading to improved offense as well

Improved PK, Defense and Offense, as well as improved individual players

No impact

Other (please elaborate with a comment)
Robinson's penalty-killing expertise should certainly move the Sharks from the cellar to the middle of the pack when it comes to stopping power plays. If this happens, it will allow naturally aggressive Sharks forwards such as Joe Thornton, Ryane Clowe and Logan Couture to be much more aggressive offensively, not worrying that a penalty will cost the team a goal.
In other words, it isn't far-fetched to say that Larry Robinson was a better addition to this team than just about any player would have been. His defensive system will allow San Jose to get more out of the players that are currently on the roster. And while Robinson and another new assistant coachâ€"Jim Johnsonâ€"run the defensive side of things, Todd McLellan will be much more free to focus on offense, which is his area of expertise.
Finally, if McLellan's Sharks still falter, who better to have as a potential interim head coach than Robinson, a guy who's won more Cups taking over as head coach midseason than McLellan has won as a head coach, period?
Of course, just as with the addition of a player, there is no way to know how Robinson will fit in with the coaching staff and how well he'll connect with San Jose's roster. But in an offseason where San Jose didn't have the cap room to sign a big player or the trade chips to trade for one, bringing in an elite "free agent" coachâ€"probably the best one on the marketâ€"was a brilliant move on Doug Wilson's part.