There's no need to convince Sharks fans that their team will be worth watching during the upcoming season.
No fanbase in the league is more dedicated to supporting their team, and very few even equal Sharks fans loyalty level.
So, when examining "10 things to watch for" during the 2012-12 campaign, I will not be attempting to sell the team as exciting, worth watching or marketable.
Rather, this is simply a look into what to look for once already looking. And because Sharks fans can take and dish out honest criticism of their team, about half of this list may in fact be reasons not to watch the 2012-13 San Jose Sharks.
But of course, nothing would deter Sharks fans.
The Growth of Young Talent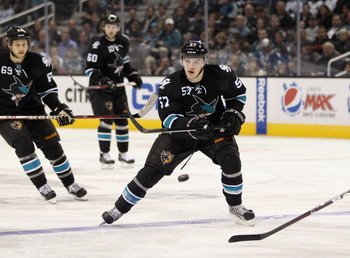 Ezra Shaw/Getty Images
The Sharks are one of the NHL's older teams, but San Jose's young players appear to be getting better faster than its old players are getting worse.
Logan Couture followed up a Calder Trophy-worthy rookie year with an all-star campaign in year two. This coming season, Couture could establish himself as one of the NHL's top-tier two way centers, especially if his linemates (Martin Havlat and Ryane Clowe) can stay healthy and engaged.
Tommy Wingels had a magnificant rookie season, dishing out 102 hits in 33 games and showing tremendous fire on the ice. He only scored three goals and nine points, but his raw offensive skill is reminiscent of Jamie McGinn. Wingels could follow in Jamie's footsteps and become a two-way force on San Jose's third line.
Andrew Desjardins proved to be a quality defensive center during his first season, winning draws, dishing out hits and taking pucks away. He also showed flashes of offensive potential, and the thought of him and Wingels together gives San Jose a tough-to-play-against third line.
Justin Braun established himself as a strong No. 5 defenseman last year, and showed top four potential on both ends of the ice. By the second part of this coming season, Braun could be playing like a legitimate top four d-man, although he will still be on San Jose's third pairing.
The Benefits of a Quiet Offseason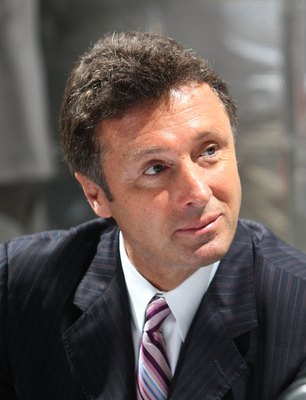 Bruce Bennett/Getty Images
After a disappointingly early playoff exit, fans tend to look for an offseason of change. However, not all change is good change, and Doug Wilson has spent two summers too many making lateral moves for the sake of "shaking things up."
So Wilson will go into the 2012-13 season with the same vision for his team as he did going into last year: a big, strong defensive team who can impose their will on any team and crush any opponent with a lethal power play.
The difference? Wilson has made the necessary tweaks to allow his team to be what he envisions, but hasn't rocked the boat beyond that.
Wilson brought in physical veteran defenseman Brad Richards to shore up San Jose's second pairing. He also brought in associate coach Larry Robinson to improve the team's defensive schemes and approach, particularly on the penalty kill.
Beyond that, Wilson stood more or less pat. No major players departed, and the familiarity that almost every Sharks player has with each other will help the team pull themselves out of ruts more quickly than last season.
Career Highs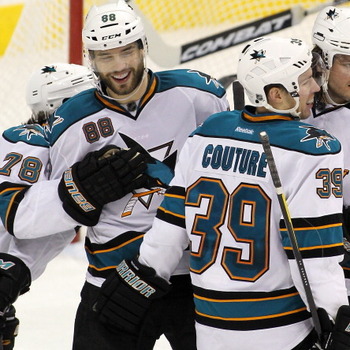 Marianne Helm/Getty Images
There are multiple reasons why San Jose's offense should be more productive in 2012-13. An improved penalty kill would allow much more offensive aggression. Entering the season with a similar roster will increase trust, chemistry and confidence.
Because of this, several Sharks have a realistic chance at putting up career highs, including two already high achieving studs.
Logan Couture went from 56 points as a rookie to 65 in year two. It's safe to expect 30+ goals from Couture again, but his assists should jump into the 40s this season (if Martin Havlat and Ryane Clowe stay healthy), and his point total could approach 80.
Brent Burns could explode offensively this year. Not only will the 27-year-old feel more comfortable in year two with San Jose, but playing with Brad Stuart will allow Burns to play off of his partner more. Considering Burns has put up 17 goals and 46 points for the Wild, 20 goals and 50 points are not unrealistic projections for a guy surrounded by elite playmakers.
Marc-Edouard Vlasic, Justin Braun, Tommy Wingels and Andrew Desjardins are all excellent candidates to post career highs as well.
Stellar Blueline Play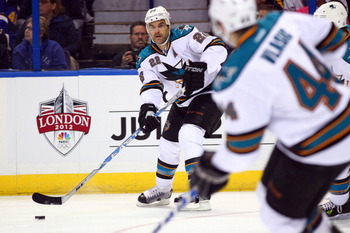 Dilip Vishwanat/Getty Images
With the addition of Brad Stuart in June, San Jose gave itself one of the top five defensive units in the NHL.
The unit is top-heavyâ€"both Dan Boyle and Brent Burns could be the No. 1 d-man on half the teams in the leagueâ€"middle-heavyâ€"Marc-Edouard Vlasic and Brad Stuart could each be the No. 3 d-man on many teamsâ€"and bottom-heavyâ€"Douglas Murray, Justin Braun and Jason Demers could play in several top four's around the league.
Under new associate coach Larry Robinson, Brent Burns could become the team's new No. 1 defenseman. Robinson was a 6'4, 225 lbs. force that dominated at both ends of the ice when he played, and Burns has that type of frame and that type of skill set.
If the 27-year-old Burns and 25-year-old Vlasic can take that next step and become San Jose's top pairing, veterans Dan Boyle and Brad Stuart will see their ice-times reduced, which could be a huge factor in the playoffs, when the Sharks will lean heavily on these two Cup-winning veterans.
Douglas Murray and Justin Braun could be the NHL's best third -pairing, combining a huge, physical defensive force (Murray) with a great skating, aggressive, smart puck mover (Braun).
Should anyone get injured, the Sharks have someone who can fill in, and if healthy come the postseason, this could be the most dreaded opposing unit around the league.
Improved Grit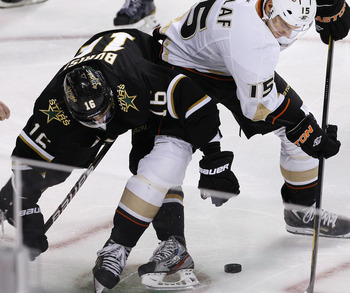 Brandon Wade/Getty Images
There are plenty of positive ways to describe the 2011-12 Sharks. However, the negative descriptions are what stick out: soft, weak, uncommitted.
The team would never describe themselves this way, but the fact is that, despite being one of the bigger teams in the NHL, San Jose finished 27th in the league in hits and 24th in penalty minutes. They were also 29th in penalty killing.
This offseason, San Jose has gone a long way to address their lack of grit. First, the addition of Brad Stuart brought the team physicality (his 177 hits would have led the Sharks last season by a longshot). They then brought in Adam Burish, a gritty checking-line forward who hits, blocks shots and wins draws, but most importantly skates hard, works hard a plays the same way each shift.
On top of these additions, gritty youngsters such as Tommy Wingels, Andrew Desjardins and T.J. Galiardi will see increased roles, eating minutes that were occupied by softer players like Benn Ferriero and Torrey Mitchell last season.
The addition of Larry Robinson could drastically improve the team's penalty kill, and an improved PK would allow the team to hit more and rack up more penalty minutes. 
Improved Penalty Kill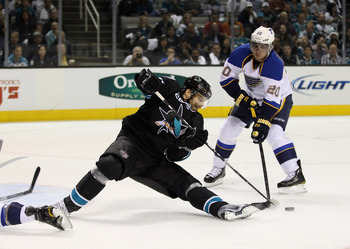 Ezra Shaw/Getty Images
I've touched on it in other slides, as its holistic impact on the team is its biggest benefit. But even on its own, watching an improved Sharks penalty kill will save Sharks fans from losing more hair than they already have.
There are many reasons to believe San Jose's PK will be better next season. The first is that it can't be worseâ€"the Sharks were 29th in the league last year at 76.9 pct. efficiency.
Secondly, it was so blatantly clear that San Jose couldn't compete in the playoffs without killing penalties that it became the primary focus of the offseason. Jobs are at stake if it doesn't improve. Just that alone will make it better.
Thirdly, the Sharks brought in two coachesâ€"Larry Robinson and Jim Johnsonâ€"who are defensive experts and bring an aggressive philosophy to penalty killing, something San Jose sorely lacked last year.
With a new system and an increased focus on killing penalties, San Jose's naturally-gifted PK guys could shine. Brent Burns, Marc-Edouard Vlasic, Joe Pavelski, Joe Thornton, Michal Handzus, Adam Burish and Brad Stuart have all been key members of great units in the past, so there's no reason to think San Jose can't kill over 85 percent of penalties with an improved system. 
Injury Problems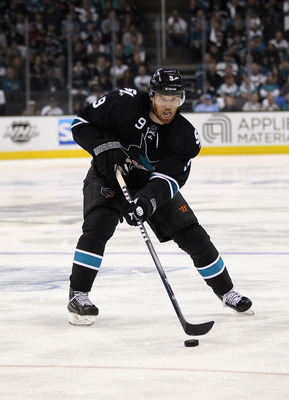 Ezra Shaw/Getty Images
Desperate to improve his roster last summer, Doug Wilson took a chance on some injury-prone players.
He traded the always healthy Dany Heatley and Devin Setoguchi for the oft-injured Martin Havlat and Brent Burns. Burns stayed healthy, Havlat did not. Ryane Clowe, Michal Handzus and Douglas Murray missed time last season as well, while Dan Boyle played much of the season injured.
San Jose's defensive depth will allow for similar injury problems to occur without hurting the blueline, but if Havlat or Cloweâ€"or the aging Joe Thornton or Patrick Marleau, for that matterâ€"go down for any significant amount of time, San Jose will feel the impact even more strongly than last season due to their lack of a capable top-six scorer on the third line.
Goalie Antti Niemi has been durable during his NHL career, but his fortunes could turn if Todd McLellan keeps overplaying him.
The Sharks are going into the 2012-13 season healthy, andâ€"like any teamâ€"could be incredibly lucky and healthy all year. But given San Jose's age, injury-prone players and minute distribution, they are likely to suffer at least one if not two significant injuries that hurt the team's chances.
Lack of Secondary Scoring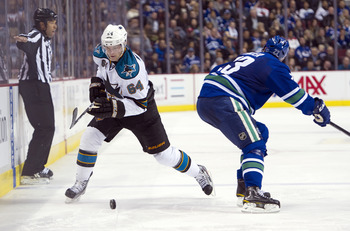 Rich Lam/Getty Images
If the Sharks suffer an injury to their top six, the bottom six's lack of a viable replacement option is a problem.
However, even in a scenario where everybody's healthy, San Jose's third line will be one of the league's weakest offensively.
Two seasons ago, Joe Pavelski, Kyle Wellwood and Torrey Mitchell made up one of the best third lines in the NHL. Even after losing Wellwood and Pavelski moving up to the top line, last year's third line was effective, as Jamie McGinn, Michal Handzus and Mitchell developed chemistry and had a knack for coming up with big goals if the top six struggled. 
But after trading McGinn at the deadline, San Jose's secondary scoring disappeared. So far this offseason, Doug Wilson has not added one viable goal scorer to his team, meaning the third line will again be anemic.
Tommy Wingels, Andrew Desjardins, Michal Handzus and Adam Burish figure to compete for the three third-line spots. Any comination of the three would make a great defensive line; one that wins draws, skates hard and hits people. But without an offensive threat, San Jose's bottom six will hold them back, especially come playoff time.
Effort Level

Christian Petersen/Getty Images
Playing a 60-minute hockey game is easier said than done; doing it night after night is just about impossible.
Having said that, there were few teams in the NHL last season that were as inconsistent as San Jose. It seemed that every goal would be followed by an opponent's goal or power play. Every good period would be followed by a bad one, every complete game would be followed by a stinker.
Outside of Joe Thornton, Joe Pavelski and Dan Boyle, every key player went through terrible stretchesâ€"Patrik Marleau, Ryane Clowe, Martin Havlat, Brent Burns, Marc-Edouard Vlasic, Antti Niemi, even Logan Couture.
It seemed as if everything a player did right led to an inflated ego, and every win or goal the team scored led to a sense of complacency. Every time it seemed as if the team finally learned, they revealed that they did not
Maybe the Sharks needed the offseason to figure it out. Maybe such a bad season (by Sharks standards) will lead to a more committed team in 2012-13. Maybe Todd McLellan will push the guy's harder, maybe the new coaches will help.
But until we see it on the ice, there's little reason to believe that the 2012-13 Sharks won't suffer the same mental lapses and emotional highs and lows that plagued them in 2011-12.
Who Will Stay, Who Will Go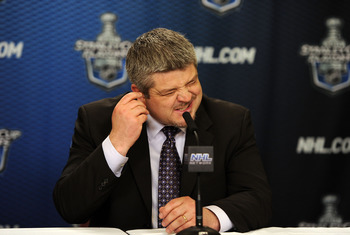 Harry How/Getty Images
Hardly ever does a trade deadline go by where Doug Wilson doesn't make a move. This season doesn't figure to be any different.
If San Jose struggles early on, don't be surprised if a "top ten" player is moved before the deadline even approaches. Patrick Marleau. Ryane Clowe, Dan Boyle and Antti Niemi are all guys who could be shipped out.
The most likely move if the team struggles, of, is the firing of Todd McLellan. There was no guarantee he'd survive the summer, and with a decorated associate coach breathing down his neck, his job could last about as long as Davis Payne's did in St. Louis last year.
If the Sharks flourish, moves are likely as well. The team has an excess of depth at forward and seven capable top-five defenseman, meaning that multiple players could be moved for one blue-chip piece without destroying the bottom units.
The aging Sharks are unlikely to part with any youngsters who figure into their long-term plansâ€"Marc-Edouard Vlasic, Justin Braun, Logan Couture, Tommy Wingels, Matt Nieto, Freddie Hamilton, Tomas Hertlâ€"but other more expendable youngsters such as Andrew Desjardins, Jason Demers and T.J. Galiardi could be moved along with a veteran like Michal Handzus or Douglas Murray.
Begin Slideshow
Keep Reading

San Jose Sharks: Like this team?