I recently wrote an article that was entitled "10 Team Who Will Challenge for the Stanley Cup in 2013," and I did not mention the San Jose Sharks on the list. After reading some of the comments and going over all the statistics and factors one more time, I have came to the conclusion that the San Jose Sharks are the dark horse to win the Stanley Cup this year.
While they have yet to win the holy grail of hockey since their entrance into the NHL in 1991, they have only missed the playoffs once in the last 14 seasons.
Their 43-29-10 record from last season, while impressive, fails substantially in comparison to their 53-win, 117-point season from 2008-09, but when you look at those two rosters, there really isn't that much difference.
Joe Thornton, Patrick Marleau, Joe Pavelski and Dan Boyle were a part of both of those teams. Those four guys were four of the five leading scorers for the Sharks last season.
Add in Logan Couture, and the offense still appears to be there.
Back when the Sharks were consistently finishing as a top seed and one of the favorites to win the Stanley Cup, they had Evgeni Nabokov between the pipes, and he was no slouch. He posted a 41-12-8 record in 2008-09, but failed to come through in the playoffs, as the Sharks were eventually ousted in the first round by the Anaheim Ducks.
If the last few years have proved anything, it is that in order to win it all, a proven goaltender is vital.
Enter Antti Niemi.
Who will win the Pacific Division?
Who will win the Pacific Division?
San Jose Sharks

Phoenix Coyotes

Los Angeles Kings

Dallas Stars

Anaheim Ducks
While Niemi's style of play doesn't commonly turn heads, he is a proven, solid, Stanley Cup-winning goaltender. Many people tend to forget that it was he who led the Chicago Blackhawks to the shrine in 2010.
It would have been nice if the Sharks could have picked up someone like Zach Parise, Rick Nash or Shane Doan (which now seems very unlikely), but with their current talent pool, they should still make the playoffs and can complement their needs at the trade deadline.
Agreeing to a three-year deal with defenseman Brad Stuart is a greater move than it has gotten credit for. His family is there, and the $3.6 million per year he will be getting paid seems far less than what he deserves.
He will be happy in San Jose, and with professional athletes, that is sometimes half the battle in forming a successful player. Remember, Stuart played for the Sharks from 1999-2006.
Even at 32 years old, Stuart is a solid defenseman who will complement Dan Boyle and Brent Burns. He isn't a huge force offensively, as he has only had 61 points over his last three seasons, but the Sharks haven't had a huge issue scoring the puck.
Having a solid back-end player for the next three years is a huge pickup.
They do play in a fairly difficult division with the Stanley Cup champion Los Angeles Kings, a much-improved Dallas Stars squad and last year's division winner Phoenix Coyotes. Still, they should find a way to get into the playoffs, and are one move away from being a true contender.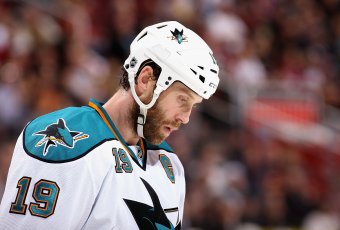 If the Sharks are going to be successful, Captain Joe Thornton will have to lead the way.
Christian Petersen/Getty Images
The last guy I want to mention is Joe Thornton.
I ranked Joe Thornton as the eighth best center entering next season in the entire NHL, but I could definitely entertain an argument that he deserves to be ranked higher. He has proved year after year that he is one of the best two-way players in the game, and seemingly is getting better with age.
The best part about Thornton? He has managed to stay injury free over his entire career.
That is such an important aspect when you look at the amount of major problems that players have gone down from for long periods of time over the last few years (i.e. Sidney Crosby, Jonathan Toews, etc.).
In fact, over the last nine seasons, Thornton has only missed 16 games, and over the last seven seasons, he has only missed six. That is availability at its finest.
When the favorites for the Stanley Cup get brought up, not many people think of the San Jose Sharksâ€"but last year I don't think there was anyone bringing up the Los Angeles Kings, and look what they just did.
There is always a dark horse, and this year that title belongs to the San Jose Sharks. Great offensive prowess, solid foundation behind the bench and in the front office, proven goaltending and a city desperate for a titleâ€"it may be their year in 2013.