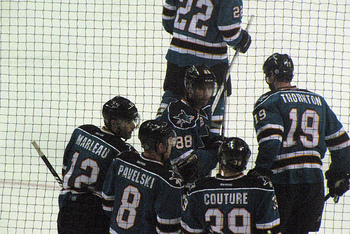 After the 2011-12 season ended, many people expected the San Jose Sharks to make major changes. After all, Sharks general manager Doug Wilson is the man who brought in nine new faces last summer, including All-Star defenseman Brent Burns and explosive winger Martin Havlat.
Wilson had other plans. So far, San Jose's 2012 offseason has been relatively quiet. No big-name players have departed, Todd McLellan hasn't been fired and the Rick Nash trade that so many anticipated has not happened.
However, Wilson's quiet offseason does not mean it has not been productive. The Sharks have added a quality piece in Brad Stuart, re-worked the team's depth and re-structured the coaching staff.
Of course, it's only July 16, and Wilson and the Sharks have a few more things to do before October.
Already Checked Off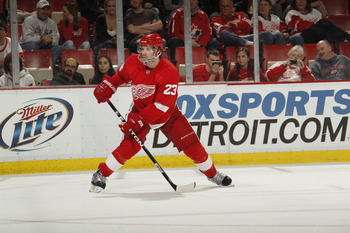 Gregory Shamus/Getty Images
Add a Top-Four Defenseman
The Sharks' June 18 signing of Brad Stuart to a three-year, $10.8 million deal solidified the team's blue line.
Not only does Stuart bring the physicality and skill San Jose's defense was lacking, but he properly re-aligns the defensive pairings. Next season, both Dan Boyle and Brent Burns will have a stay-at-home partner (Stuart or Marc-Edouard Vlasic) who won't hold them back offensively.

Hand-Pick a Depth Player
San Jose's July 1 acquisition of Adam Burish isn't going to win them a Stanley Cup, but it's going to improve their bottom six.
The Sharks had a lack of players that skated with an edge last year after letting guys like Scott Nichol and Jamal Mayers walk. Burish brings that gritty attitude back to the fourth line, and fits the team's mold due to his ability to win faceoffs at the wing position.

Bolster Coaching Staff
Not only did San Jose shake up its coaching staffâ€"which was necessaryâ€"they greatly improved it.
First, they brought in Larry Robinson, part of the Devils' NHL-best coaching staff and the man greatly responsible for New Jersey's NHL-best penalty kill.
They then brought in Capitals assistant Jim Johnson, another defensive-minded man with penalty-kill expertise.
Sign a Top-Six Forward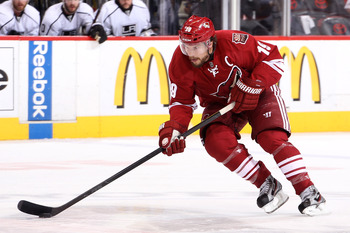 Christian Petersen/Getty Images
When healthy, San Jose had one of the NHL's best top sixes last season. Superstar first-line center Joe Thornton was flanked by two 30-goal scorers who can also defend and win draws in Patrick Marleau and Joe Pavelski.
The second line featured young center Logan Coutureâ€"a three-zone force at age 23â€"as well as a speedy, creative wing in Martin Havlat and a big, strong, physical power forward in Ryane Clowe.
The problem was that when the top six was not completely healthyâ€"which was the case for half the seasonâ€"it was rather impotent.
This is because there is an enormous drop-off from San Jose's sixth-best forward (take your pick) to their seventh-best (Tommy Wingels, Michal Handzus, etc.).
For San Jose to have a dominant regular season, they need all six to remain healthy. Martin Havlat's injury last year highlighted this: The Sharks were 25-11-3 with him in the lineup, and 18-18-7 without him.
This is why they need another top-six forward. Injuries happen, and there's no reason to believe that Wingels or Andrew Desjardins or Adam Burish will be a viable top-six stand-in.
Not only would another top-six forward be a great insurance policy; they would upgrade San Jose's bottom-six.
The addition of a top-six winger would force either Ryane Clowe, Joe Pavelski, Martin Havlat or the new player to the third line, turning the third line from offensively impotent to offensively potent. In turn, this would force a third-linerâ€"probably Andrew Desjardins or Michal Handzusâ€"to the fourth line, thus upgrading that line.
San Jose's options are limited, but Shane Doan, Jason Arnott and even the enigmatic Alex Semin remain available. If the Sharks can't land a legitimate top-six guy, they would still do well to add a new seventh-best forward such as Marco Sturm or Andrei Kostitsyn.
Fix the Penalty Kill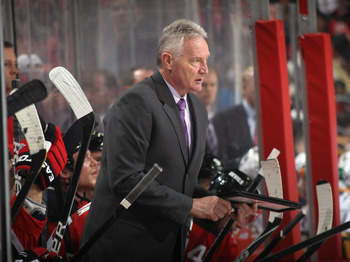 Bruce Bennett/Getty Images
This may seem like more of a regular-season to-do task, but look no further than last year for evidence as to why it is not.
The Sharks tried to fix their weak penalty kill last offseason by changing up their personnel. Gone were 2010-11 penalty killers Scott Nichol, Niclas Wallin and Kent Huskins, and in came Michal Handzus, Colin White and Brent Burns
The PK, however, stayed the same. 
The Sharks tried fixing it throughout the season, making tweaks in strategy and trading for penalty-killing specialists Dominic Moore and Daniel Winnik.
Still, no difference. 
That's why the change needs to happen this offseason. Not through new personnel, but through a well-planned out new approach drawn up by the new coaching staff.
The new approach then must be heavily emphasized and ruthlessly implemented during training camp so that San Jose can start the season strong on the PK, allowing their unit to gain confidence as the season goes on and allowing Doug Wilson to refrain from desperate trades.
Make It Clear That No Job Is Safe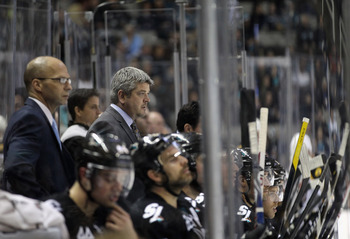 Ezra Shaw/Getty Images
The Sharks had one of the NHL's better rosters last season, but their effort level was among the league's worst. Together, that made for a slightly above-average team.
Even with Brad Stuart and even with another big forward, an uninspired 2012-13 Sharks team will not be much better than the 2011-12 team.
Making someone afraid of losing their job is one of the best ways of making them improve their effort level.
Ownership made it clear to Doug Wilson and Todd McLellan that their jobs were on the line, so Wilson and McLellan responded by shaking up the coaching staff. It is now on the coaching staff to make the players realize that their jobs are by no means secure.
When training camp opens, the starting goalie job should not belong to Antti Niemi. Thomas Greiss should be given a real chance to win the job, and certainly a chance to win more playing time.
Marc-Edouard Vlasic must be made to believe that Justin Braun could push him for a top-four role. Douglas Murray and Jason Demers must be forced into a desperate competition for the final starting defenseman slot.
Ryane Clowe should be encouraged to bounce back from a down year if he wants to remain in the top six. Patrick Marleau needs to be threatened with a demotion to the second line. Michal Handzus and Adam Burish must know that their veteran status doesn't guarantee them starting lineup spots.
If the Sharks make their training camp and preseason a low-stakes period for working out kinks and getting in shape, the team will suffer.
But if they turn training camp into a high-stakes battle in which roles will be defined, they'll infuse a desperation into the 2012-13 team, one that would have a chance to propel them far.
Begin Slideshow
Keep Reading

San Jose Sharks: Like this team?