One of the things most often discussed about the San Jose Sharks is their narrow window for winning a title. General manager Doug Wilson himself has made the point.
It makes it sound as if the team is done if the current core does not win.
One thing that is built upon is Wilson depleting the prospect pool through trades designed to win now. Another is the assumption that two summers from now the team will be faced with the proposition of either resigning or letting go the top two picks of the very strong 1997 NHL draft.
But the Sharks are not without young talent. They can choose to let Dan Boyle, Joe Thornton and Patrick Marleau (38, 35 and 35 respectively before the next season) go. They will have enough support for the two players they must resign, Logan Couture and Joe Pavelski, neither of which will be 30.
Outside of those two obvious choices about young talent, there are several others that have a good chance of rising to that impact level. Five of them can truly be considered breakout starsâ€"players who have not yet been everyday starters who can be ready to play roles in the top half of the depth chart in two years.
Justin Braun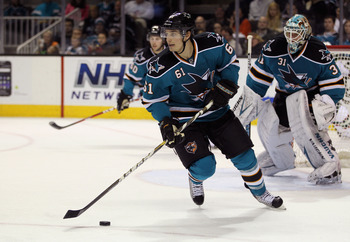 Ezra Shaw/Getty Images
Justin Braun may seem like an obvious choice for a breakout star, given what he has already shown the San Jose Sharks. Or he may seem like he should be omitted from this list because he is too much of a proven quantity.
However, he spent one-fifth of last season scratched. He has never been used for anything more than a third-pair role, finishing fifth on the blue line in ice time last season. Making a jump to a top-three role would be breaking out.
San Jose will be able to let Dan Boyle go in the summer of 2014 because Braun will have proven he is ready to compete with Marc-Edouard Vlasic for the No. 2 spot. He will have similar strong positioning and puck-moving abilities, with Braun making fewer defensive plays but offering more offensively.
Alex Stalock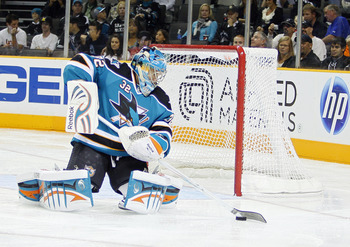 Brian Bahr/Getty Images
Alex Stalock is already a perfect NHL goaltender. In one relief appearance for Antti Niemi, he turned away all nine shots and got the comeback win.
Shortly afterward he was sent back to the minors, where he suffered a freakish, awful injury. After tough rehab to fully recover from severed tendons and nerves, he got back onto the ice last spring.
While Stalock has yet to return to the level of play that made him one of the league's top goalie prospects, he has regained that status simply because he did show he can play again. The fact that his development was halted for more than a year helped the Sharks delay their having to make a decision on him.
Backup Thomas Greiss has one year left in his minimum contract before becoming an unrestricted free agent. Unless Niemi has a bad enough season for the Sharks to think he cannot take the next step of anchoring a team's defence from October through June, Greiss will go somewhere he can compete for the No. 1 job.
Whether Niemi or Greiss is gone, it opens the door for Stalock. As a restricted free agent who will still not be NHL-proven, he will be easily retained by San Jose. He will get his chance in the backup role and could give the Sharks flexibility to move on from the more-costly Niemi before his contract expires.
Tommy Wingels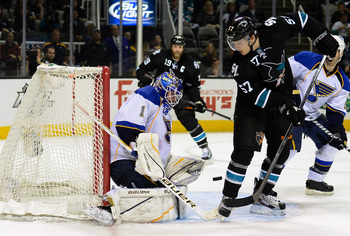 Thearon W. Henderson/Getty Images
Tommy Wingels had just six points in just 33 games last year for the San Jose Sharks. Prior to that, he had five games and no points.
But the 23 year old showed great skating ability and an ability to be physical. He registered by far the most hits per game and minute. He was a presence in front of his own net.
I believe he makes the jump to the third line for the upcoming season. Even if the team resigns Ryane Clowe next summer, Wingels will be ready to challenge him and Martin Havlat for ice time the following season.
By the time Patrick Marleau embarks on his new contract, Wingels may be better. As a restricted free agent, he will certainly cost less. That combination may spell the end of Patty's time with the franchise.
Tomas Hertl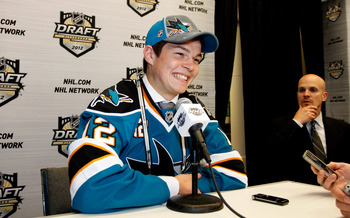 Justin K. Aller/Getty Images
At 6'2" and 19 years old, 2012 first-round pick Tomas Hertl is the San Jose Sharks prospect most physically capable of playing in the NHL. He is a good skater and has already shown an ability to compete well on both ends in European play.
He is expected to spend this coming season playing again in his native Czech Republic. But considering San Jose could lose Ryane Clowe, Michal Handzus, Andrew Desjardins and T.J. Galiardi next summer, chances are there will be at least one opening for him.
At the very least, expect him to be ready to play a pivotal role on the fourth line in 2013-14. I think he can make the jump to the second line before the end of the following season should the Sharks choose to let Joe Thornton and/or Patrick Marleau go.
Matthew Nieto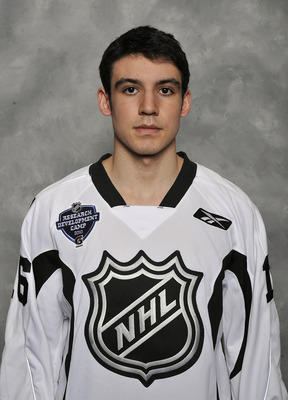 Graig Abel/Getty Images
With their first pick of the 2011 NHL Draft (second round), the San Jose Sharks selected Matthiew Nieto.
He collected 63 points in 59 games with the U.S. National Under-18 team. He followed it with 10 goals and 13 assists as a freshman for Boston University against some of the best college competition one could face. Last season, he ramped that up to 42 points in 37 games.
While he is likely to play his junior year at BU, he likely leaves college in 2013â€"perhaps early enough for a late role in the NHL if he continues to improve as he has. He almost certainly makes his NHL debut before the summer of 2014, and has the scoring ability to make it to the second line by the time the next season starts.
Begin Slideshow
Keep Reading

San Jose Sharks: Like this team?