It wasn't exactly a let-off, although something of that register might have been expectedâ€"perhaps even understoodâ€"after such a thrilling match four days earlier had seen San Jose Earthquakes dismantle Real Salt Lake to the tune of five goals to nil, but San Jose could consider themselves fortunate to escape with a 2-1 win over FC Dallas at Buck Shaw Stadium on Wednesday night in a match that saw the visitors granted a penalty just seconds from the final whistle.
"If they would have equalized in the end with that penalty kick, you would have had to say that they deserved at least a draw, to be honest," Earthquakes manager Frank Yallop told reporters after the game. "You can't use the word 'lucky', but that game could have gone either way."
"I keep saying, 'Every game in this league is difficult'. They're bottom of our conference (eighth out of nine teams), and I think they're a really good team. They're very dangerous, and very hard to handle."
"They've been a bit unlucky in a lot of the games they've had, but there's not a big gulf between the top and the bottom in the standings. They've played some great stuff, and they were certainly tough to face tonight."
Earthquakes midfielder Rafael Baca cleared twice off his own goal line (once in each half, with the first saving flourish coming just one minute after kickoff), both times from Dallas forward/winger sensation Brek Shea. The goal-mouth scramble was an indicator of the deluge to which San Jose was subjected for large portions of the match.
Dallas had eight corner kicks in the first half (11 once the final whistle had gone), and forced San Jose keeper Jon Busch into several lunging, finger-tipped saves, but the Earthquakes were resilience personified as they held their lines steadfastly throughout, save for one free kick in the 89th minute, where Dallas defender Hernan Pertuz was granted a free header.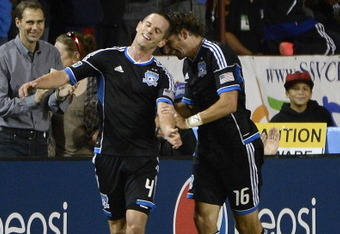 Cronin's (left) assist for Gordon (right) would prove the decisive goal.
Thearon W. Henderson/Getty Images
The central defender, who'd cleared a goal of his own off the line when these two teams had faced just 11 days previously, coaxed his shot past Busch to make it 2-1.

The Earthquakes Make the Most of Their Chances
San Jose had just two shots on target in the first half, but they made them both count, with Marvin Chavez (12') and Alan Gordon (45') scoring superb goals to take the team's total league count this season to an MLS-leading tally of 43.
Shea Salinas, one of several Earthquakes players firing back into fitness after lengthy injury spells, picked out Chavez with a weighted cross-field ball that split two Dallas defenders. Chavez proceeded to catch the ball perfectly on the half-volley and fired from the left edge of the penalty area past keeper Kevin Hartman and into the right corner of goal.
"(Jair) Benitez dropped off me so I found a little space, and I just hit it across," Salinas said. "Marvin happened to be there, and what a great volley he had. It was a great finish by him."
There are certainly worse ways to mark a first goal of the season. Chavez's celebration wasn't too shabby, either, as he raced to the sideline and leapt into compatriot Victor Bernardez's arms.
"(Bernardez) picked (Chavez) up like a little rag doll, because Chavez doesn't weigh much," Yallop said. "The spirit of those two guys is great, and I think they're part of the camaraderie we have in the dressing room and on the field. We're all pleased with each other when we do well, and I think it shows."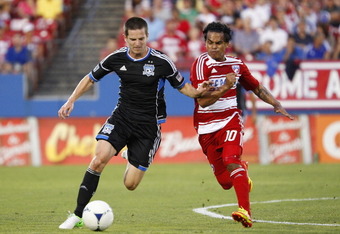 These two teams had previously met on July 7 in Dallas.
Rick Yeatts/Getty Images
San Jose pressed their advantage immediately after the goal, but Dallas steadily drew back into the game, and kept peppering the Earthquakes' penalty area only to be undone by a decided lack of quality in their finishing.
"They had a lot of balls in our box, and I thought our defenders did very well dealing with them," Busch said. "There were a lot of bodies, a lot of people battling, and our boys were willing to stick their heads into dangerous places and deal with the threat. It got a little nerve-racking, but we got away with it."
After Dallas had looked like it would equalize, in the blink of an eye the Earthquakes had struck again.
This time it was midfielder Sam Cronin who turned provider, picking out Alan Gordon at the far post with a sumptuous first-time chipped cross. Gordon rose highest and headed across Hartman to make it 2-0 San Jose on the cusp of halftime.
The goal gave Gordon two goals in two games and eight on the season to date. (Yallop pointed out afterwards that if not for a debatable call in Colorado, Gordon would actually have nine to his name.)
"It was an amazing cross from Sammy," Gordon said. "I called for itâ€"he saw me raise my hand, and he put it right on my head and gave me a chance, and I got right up and tried to put it on target, and I was fortunate enough for it to go in."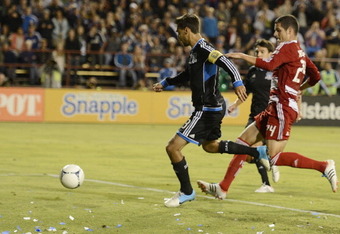 Wondolowski had an effort deflected away in the opening minutes, but aside from that was strangely silent.
Thearon W. Henderson/Getty Images
The start against Dallas made it four starts in a row for Gordon, dating back to the July 3 match against Portland Timbers. "I've been working hard, coming back from my injury," he said, referring to the debilitating tears in an abdominal muscle and both hip adductors which had required season-ending surgery last August. "I continue to do that. I'm not changing what I've been doing and it seems to be working."
"When you get minutes, you're fitter. When you're not getting the minutes, sometimes you're sucking wind, and it affects your play. The more fit I get, it allows me to do more things on the field. In that sense I am feeling strong, and I hope it continues."
"His hold-up play has really been what's keeping us in the game," Chris Wondolowski said. "When we clear the ball, he possesses it, and we get two or three passes so we can get our guys going on the outside, and get our outside backs overlapping, and that's a great thing to have."

San Jose Nearly Undone by a Dallas Comeback
Labeled "The Goonies" for the uncanny ability they've shown this season to find ways to win at the tail end of games (they've scored five game-winning goals after the 82nd minute, and have compiled a stunning 13 goals in the final 15 minutes of matches), San Jose were almost ladled a dose of their own medicine Wednesday as Dallas embarked upon a furious comeback in the game's final, brow-furrowing (if you were a 'Quakes fan) moments.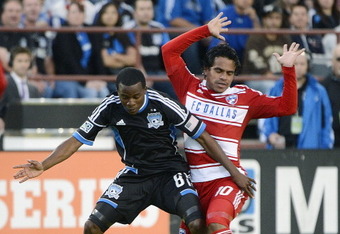 Marvin Chavez (left) scored a fantastic goal to open the scoring.
Thearon W. Henderson/Getty Images
After Pertuz had headed home from Jackson's bending free kick to make it 2-1, San Jose substitute Simon Dawkins was judged to have clipped down Loyd as the right-back darted into the Earthquakes' penalty area.
Just moments from the final whistle (four minutes of stoppage time had been granted), Dallas had an opportunity to snatch a point from what had looked like inescapable defeat just minutes earlier.
But all that might have been irrelevant.
San Jose could have made it three goals to none and put the game out discussion in the 60th minute, when Brek Shea was called for a penalty.
Replays clearly showed the US international handling the ball after Bernardez's scuffed flick from a corner kick sprung up against the winger's left arm.
Wondolowski, scorer of 17 goals in 18 games heading into Wednesday's match, stepped up to take the spot-kick.
He would have brought his prodigious total to 18â€"one closer to Roy Lassiter's MLS single-season record of 27, a feat accomplished in the inaugural 1996 seasonâ€"after smashing his effort past a wrong-guessing Hartman and into the top right corner of goal, but Stott called it back after deeming a player to have rushed prematurely into the area.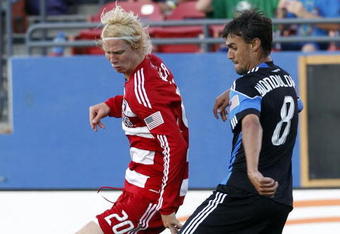 Shea, seen here with Wondolowski sporting a different hairdo (no mohawk yet) in a different season (2010), was far less effective on Wednesday night than he had been in previous matches against San Jose.
Layne Murdoch/Getty Images
"I'm not too sure what rule was encroaching on the play, and there was no doubt that (Wondolowski) smashed it in," Yallop said. "I don't think it made any difference to what 'Wondo' was doing, or what the goalie was doing. I'm not sure what they saw."
Wondolowski's second effort was just as fierce but not as well-placed, and Hartman saved comfortably to his left, keeping his side's deficit at a more manageable two-goal clip.
"Obviously, retaking the penalty is never easy, and it nearly came back to haunt us a little bit," Yallop said.
"That (decision) almost cost us two points," Gordon said. "(Stott) must have seen something pretty blatant, or else he wouldn't have called it. I hope replays show something significant."
Fast-forward to Benitez's penalty in stoppage time.
Dawkins was absolutely beside himself with Stott's decision; a marked contrast to the near-apathy Shea had shown after his own fault.
After defending so valiantly for so much of the game, San Jose had suddenly found themselves within a well-taken 12-yard strike from dropping two points.
But Benitez's penalty rocketed over Busch's goal, to the uproarious delight of the crowd on hand.
Dawkins rushed over to Stott, still fumingâ€"imagine what he'd have been like had Benitez been more accurateâ€"and began to shout at the referee.
His Earthquakes teammates quickly joined in on the fray, pointing skywards as if a little praise was in order for divine intervention on their behalves.
Now at 43 points from 21 games played (a record of 13-4-4), San Jose head to Vancouver to take on the Whitecaps on Sunday in their final game before the MLS All-Star break.
Unless otherwise noted, all quotes in this article came from interviews collected on site at the San Jose Earthquakes-FC Dallas match on July 18.