San Jose Earthquakes central midfielder Sam Cronin rushed toward central defender Jason Hernandez, who was standing with the ball near midfield, and pointed with his finger to where he wanted Hernandez to play itâ€"in front of him, just so, so Cronin could then dictate play.
Hernandez acquiesced, and just like that, Cronin was in possession at center circle.
The 25-year-old midfielder doesn't usually hold onto the ball for longâ€"his style of play is a staple of the modern-paced midfield game, where one and two touches reign, coupled with uncanny vision and movement.
Cronin pairs with Rafael Baca in the 'Quakes' midfield, which uses two central midfielders in a 4-4-2 formation. Baca usually plays a bit higher than Cronin, and to the left, roaming about the attacking third as Cronin holds his position a bit deeper.
That makes his defensive acumenâ€"tracking runs from opposing players, being sturdy in tacklesâ€"of utmost importance.
Against the Los Angeles Galaxy in June 30's fabled California Clasico, at a Stanford Stadium filled to the brim (some 50,391 strong, with a heavy preponderance of Earthquakes supporters), Cronin was tasked with stymieing the prodigious attacking threats of Landon Donovan, David Beckham and Robbie Keane.
Though the Galaxy managed to put three goals past 'Quakes' keeper Jon Busch that night, all came in the first half.
And considering the Earthquakes nabbed four of their own, with Cronin providing the equalizer at 3-3 with a superb sliding poach that poked past keeper Josh Saunders, it was a superb reaction from the side.
Cronin's goal came after a rare foray forward (he's taken just 16 shots this season, compared to 75 from 'Quakes' forward and MLS leading-scorer Chris Wondolowski), but afterwards the midfielder said that both he and Baca looked to make runs into dangerous areas in order to alleviate defensive pressure, which would otherwise overload on the wings and forward positions, areas the Earthquakes frequently look to attack through.
Width is a calling card of manager Frank Yallop's, who frequently takes time during his post-game news conferences to inform the assembled group of reporters that he believes his side plays at its best when it switches play quickly from side to side.
Cronin shares that vision, and lets you know it to boot.
Often electing to play searching, lofted balls this way and that about the fieldâ€"in a 5-0 waxing of second-placed Real Salt Lake on July 14, Cronin played four of them through 60 minutes, sweeping his right foot through the ball with a technique Real Madrid midfielder, and fellow connoisseur of the long ball, Xabi Alonso has masteredâ€"it's a terrific way to get things moving, and fast.
The result often sees the ball land inches from its target, its accuracy so complete that the control is nearly instantaneous.
For example, when Cronin played one of those early cross-field balls for speedy winger Marvin Chavez in the 59th minute of the Salt Lake game, the Honduran was able to control immediately before turning toward goal, which is when he is at his most effective.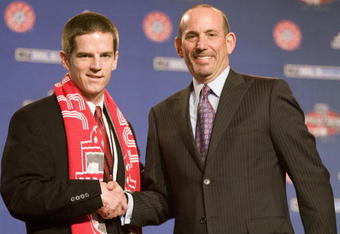 Toronto FC made Cronin the second pick of the 2009 MLS SuperDraft
Dilip Vishwanat/Getty Images

Crucial Contribution This Season
Reasons abound for why San Jose have vaulted to first place in the Western Conference standings this season, with a very real chance at grabbing the Supporter's Shield, awarded to the team with the best record in the entire league.
Currently four points ahead of Real Salt Lake in the West, San Jose hold a five-point advantage over New York Red Bulls, the East leader. New York hold a game in hand, however.
Wondolowski's 17 goals, managed in just 20 league gamesâ€"and he's gone the past two games (!) without scoringâ€"obviously rise to the fore.
But it's the more nuanced reasons, which tend to fly beneath the surface, that often lead to titles. And for all of Wondolowski's exploits, many of them have been facilitated by the Earthquakes' often-brilliant wing play.
Wing play which often begins, of course, through Cronin or Baca's distribution.
Wondolowski certainly appreciates their work rate. Speaking after that Salt Lake encounter, the forward offered a glowing appraisal of their body of work.
"Baca and Cronin have been the players of the game these past four games, dating back to LA (at Stanford Stadium)," Wondolowski said. "They cover so much ground, and it makes other players' jobs so much easier, especially mine. I appreciate what they do out there."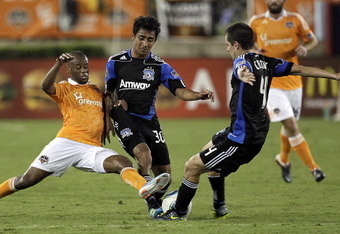 Baca and Cronin have partnered in midfield for some time now.
Bob Levey/Getty Images
Yallop was in total agreement with his star striker.
"I hate to single people out, but I thought Rafael Baca and Sam Cronin were great in the center of our midfield. They bossed it, they made sure it was busy, difficult to play against them, and they were clean on the ball."
A Winning Mentality
Traded to San Jose from Toronto FC midway through the 2010 season, Cronin's first season with the Earthquakes was something almost out of a dream.
San Jose had just had a team reintroduced in 2008â€"the previous franchise had packed up and moved to Houston, where they became the Dynamo ahead of the 2006 seasonâ€"and in that 2010 season, they embarked upon a scintillating run that saw them defeat the heavily-favored New York Red Bulls in the first round of the playoffs.
2011 was far more cumbersome, as San Jose slumped to one of their poorer seasons in franchise history, finishing seventh in the Western Conference standings and missing out on the playoffs.
When asked to describe himself by The Shin Guardian in a March, 2011 interview, Cronin called himself "a defensive midfielder" with a top-notch work-rate.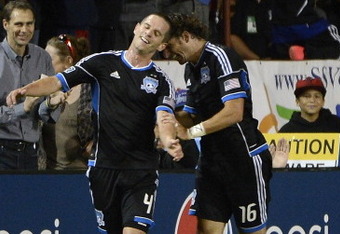 Cronin celebrates his assist for Gordon (right).
Thearon W. Henderson/Getty Images
Those two qualities hardly tell his entire story, however. Cronin knows what works, and has since college, when he helped lead Wake Forest to the 2007 Division 1 national championship.
His contributions in Winston-Salem did not go unnoticedâ€"in 2008 he was one of three finalists for the Hermann Trophy, given by the Missouri Athletic Club to the best D1 player, and he won that year's Lowe's Senior Class Awardâ€"but as so many collegiate stars soon discover upon hitting the professional ranks in this country, renown quickly outruns them.
Cronin is not the most recognizable Earthquakeâ€"run a poll of a general Bay Area leadership, and it's somewhat unlikely that many would know him.
It's true that the Earthquakes' success, as it has in so many years (they won the 2001 and 2003 MLS titles), has flown under the radar in the Bay Area, as it has nationwide.
San Jose leads the league in goals scored (44), and has just passed 40 in terms of assists as well.
While Cronin's own personal statistics don't pop out at youâ€"almost four months passed between assists before he turned provider for Gordon's goal against Salt Lake (he has three on the year, to go with that one goal)â€"as is so often the case with influential central midfielders, particularly ones with considerable defensive duties, statistics never tell the entire story.

A Fiery On-Field Character, Pensive Off It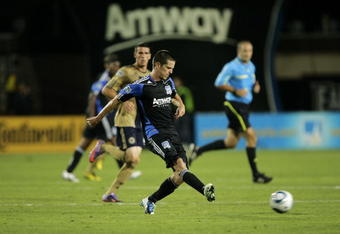 Brian Bahr/Getty Images
Cronin has been involved in a slew of on-field incidents since that Galaxy game at Stanford, when David Beckham kicked a ball at him as he lay down by the 'Quakes' goal in the dying moments.
Whatever Beckham's intentions were, they were deemed sinister by the MLS, who slapped their star attraction with a one-match ban.
Speaking after that match, Cronin, as he is so effective at doing, demurred from spewing any incendiary quotes.
That much was apparent after the Salt Lake game as well, when Kyle Beckerman had drawn a red card for going in very late on Cronin in the 57th minute.
Cronin would say afterwards that Beckerman "raked his shin."
Beckerman's rush of blood might have been a response to Cronin's previous challenge on his RSL teammate Javier Morales. Then, as Morales lay sprawled out on the field, Cronin waited a beat before kicking the ball out into touch.
The Salt Lake defensive midfielder waited a moment himself, before finally going through on Cronin just as he sent the ball skipping over the touchline.
One reporter after that match tried to get the story of the encounter out of Cronin, but the midfielder continued to play it off as something that just happens during the heat of battle out on the field.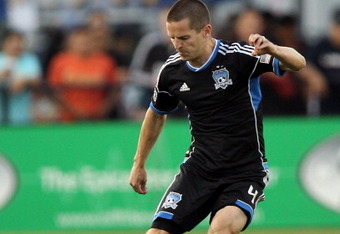 Ezra Shaw/Getty Images
Demanding, almost to the point of fiery, during playâ€"a wonderful juxtaposition from his cool and collected playing style (Cronin resembles Wondolowski in that both are frequently seen exhorting their teammates on the field)â€"the Atlanta native comes across as much quieter off it.
Always willing to talk to reporters, though, Cronin employs a thoughtful approach to interviews, offering concise answers that are perfectly measured and planned.
Having already made 19 appearances in MLS for San Jose this season, starting 18 of those encounters (the Earthquakes have played a total of 20 league games), Cronin will need to continue to be at his all-purpose best.
Expect that number to continue to surge as the season moves into its final months. If the Earthquakes are to legitimize their status as genuine contenders, they'll certainly need it.