With Alexander Semin signing with the Carolina Hurricanes and Rick Nash being traded to the New York Rangers, the San Jose Sharks are running out of options to upgrade their forwards. There are several reasons the focus remains there rather than the blue line.
Despite having seven forwards with NHL experience behind the 11 on the official NHL roster, only two have been starters and at this point. They have only signed tenders and while very likely to be in camp, the remote possibility remains the team could start the season with two players who have under 60 NHL games.
Moreover, their biggest need appears to be a top-six forward. The team suffered greatly from injuries to its scoring forwards last season and had only four forwards score more than one point in the five-game playoff series.
San Jose has replaced the six depth forwards no longer on their payroll with one. But adding one top-six forward pushes one down to what is then a great third line. The Sharks would still have a good fourth line and be stocked with minor league talent with NHL experience to fill the gaps.
But the biggest reason that their focus is on improving the forwards is the Sharks moved to a stronger blue line in 2011-12 than the previous two seasons, but won just one playoff game rather than make the conference finals.
Yet so far this summer, that stronger unit has gotten even better. Here is a look at where each player projects on the depth chart and who they should be paired with.
Dan Boyle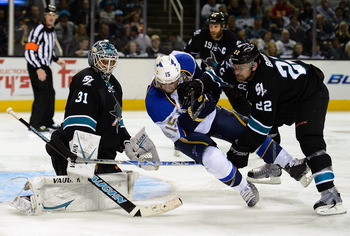 Thearon W. Henderson/Getty Images
Despite his age, Dan Boyle has remained an elite defenceman. His four seasons with the San Jose Sharks have been his most productive on both ends.
He has scored more points over those four seasons than any defenceman in the NHL. And his devotion to defence has never been more pronouncedâ€"last year he finished in the top-50 in the league in blocked shots and was second on the Sharks blue line in takeaways.
He was 17th among NHL defencemen in the Hockey Prospectus goals versus threshold stat. This is telling, as it essentially measures how the team did with that player in that situation versus standard NHL reserves in the same situation (i.e. a scratched defenceman in this case).
He was also first on the team in offensive quotient (OQ) and total quotient (TQ) while finishing third in defensive quotient (DQ). Defencemen formulae are detailed at the link, but generally measure total offensive and defensive contributions for the season, favouring those logging the most ice time.
It should also be noted that Boyle is not slowing down. The last two seasons he has been among the top-10 in the NHL in ice time. If you take away only the first nine games he played with a broken foot, his scoring was at its second-highest per game since he joined the Sharks.
Players do not go from elite to mediocre. At worst, he drops to about 30 points and 24 minutes over 70 gamesâ€"easily a first or second defenceman.
Brent Burns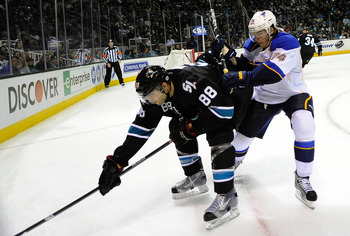 Thearon W. Henderson/Getty Images
Brent Burns was sought via trade by San Jose Sharks general manager Doug Wilson in the June of 2011 because he saw him as the next player to anchor the blue line.
However, Burns struggled transitioning to his new team and teammates. But he finished the season strong, leading the team in takeaways (also giveaways) and goals (tied with Boyle in game-winners) while finishing second in hits, assists and points. He was also third in minutes and plus-minus and fourth in blocked shots.
At the end of the season, Burns ranked 13th among NHL defencemen in GVT, best on team. He was second in OQ and TQ. He has not peaked as a player yet.
Expect Burns to push Boyle for the No. 1 role that it could be argued the 2010 All-Star has already achieved. The main difference between them will be the extra minutes the supremely-conditioned Boyle is able to handle.
Marc-Edouard Vlasic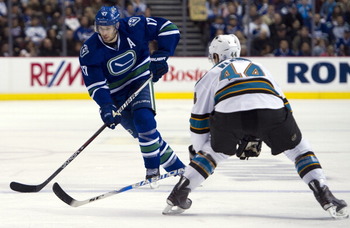 Rich Lam/Getty Images
Marc-Edouard Vlasic was among the players the San Jose Sharks had supposedly put on the trading block. All talk ended with his four-year, $21 million contract extension that kicks in July 1, 2013.
"Pickles" is a steady, minute-munching defenceman. His "hockey IQ" is off-the-charts, playing with the savvy of a 15-year vet at age 25.
But he is rarely an impact player. He has had 30 points just onceâ€"when paired with Rob Blake, who finished much higher that seasonâ€"and actually had fewer points in his sixth season than his first. Outside of a three-game stretch early in the season, Pickles scored about a point per five games.
On the defensive end, he excels at shot-blocking (12 in the NHL), arguably the most important defensive statistic on the blue line. But those plays do not get the team possession of the puck or take someone out of the play the way that takeaways (18) and hits (45) do, respectively.
Pickles is best paired with Brent Burns. His positional game will provide a safety net for Burns' aggressive play, freeing him up for not only scoring opportunities but (hopefully) the more physical defence the Sharks are likely to employ once they are no longer in fear of taking a penalty. They are young enough that they could gel as a franchise top pair.
But for now, Burns should trail Boyle in minutes, meaning Vlasic's pair might be called upon less. He will not be used as often on the power play as Brad Stuart, who will get equal penalty kill time. He could finish fourth in points.
Nevertheless, he is going to be no lower than third in minutes and be out there for a lot of the most important ones. He may only be a No. 3 defenceman because of fewer big plays, but he is among the best of that second tier.
Brad Stuart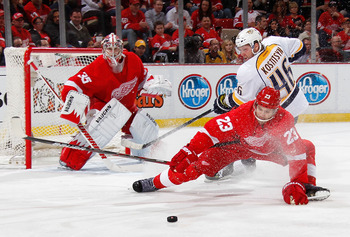 Gregory Shamus/Getty Images
When Brad Stuart was traded away from the San Jose Sharks in November of 2005 to help get Joe Thornton, he was considered more of an offensive talent than a defensive one. That has changed.
Last season, Stuart led the Detroit Red Wings with 177 hitsâ€"more than any of his new teammates had for the Sharks, where his 22 takeaways would have ranked second. His GVT (plus-9.8) and DQ (78.3) would have been third, his OQ (31.6) fourth and his TQ (109.9) second.
But he also scored six goals (two better than Marc-Edouard Vlasic, who was third on the blue line) and 15 assists for 21 pointsâ€"two behind third-place Vlasic. He is likely to see time on the power play ahead of Pickles, and would seem a good fit to be paired with the more offensive-minded, better-skating Dan Boyle.
Stuart may feel right at home in San Jose, given the reason he signed with the Sharks for less than was a return home. That tends to have a stabilizing effect, and even though he was minus-3 in two games in San Jose last season, it is unlikely to be the distraction it had to be last season.
Still, he will have to adjust to his new teammatesâ€"only Patrick Marleau remains from the team he left. He is 33, so a little decline can be expected.
He cannot eat the minutes of Vlasic or score like Boyle or Burns. That spells No. 4 defenceman, even if he is No. 3 quality.
Justin Braun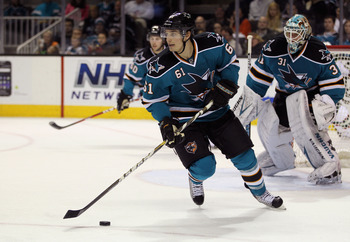 Ezra Shaw/Getty Images
Justin Braun is very much like Marc-Edouard Vlasic. After being exposed in his first regular season and postseason action, he has become assignment-reliable for the San Jose Sharks.
But he rarely finishes, winding up sixth in hits and blocked shots. That devotion in his own end has also effectively neutralized his offensive contributionsâ€"he needed 38 more games to get the same two goals and nine assists he had his rookie season.
But while he is the same age as Pickles, he has more potential for growth. With far fewer NHL games under his belt, he will be more prone to mistakes but develop more.
After signing a three-year extension at a cap hit of $1.25 million per year, some players might regress. Braun will get the benefit of being in the everyday lineup and learn how to make a little more impact on the attack without sacrificing defenceâ€"especially given who he will be paired with...
Douglas Murray

Mike Ridewood/Getty Images
Douglas Murray has an off-year for the San Jose Sharks in 2011-12. But talk of him being washed up is ignoring several factors.
For instance, the commonly-held position that his style of play has worn him down: Murray has played just 422 games because of a late start. Teams also avoid him and the Sharks do not play the most physical style, which is why he averaged just 2.1 hits per game.
He also had his best two seasons in the two previous years. He battled injuries last season, but had not missed 12 games between the two previous years.
Still at 32 years old, he is not likely to have a career year. While he has worked hard on his skating, he remains the slowest and least-capable scorer on the blue line. He will get scratched from time-to-time and probably miss a few games with injury, but should work well with the faster, less experienced Justin Braun.
Jason Demers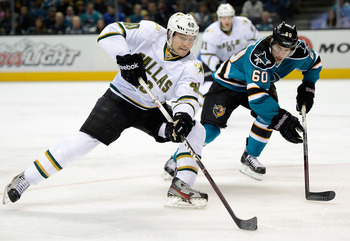 Thearon W. Henderson/Getty Images
Like many San Jose Sharks, Jason Demers had a disappointing 2011-12 campaign.
He was let off the ice for a third of the season, managed four goals but just nine assists after having 39 points in his first two partial seasons (126 total games). He was not in the top-five in any defensive category.
Right now, the Sharks best lineup might be using seven defencemen. With Demers' more offensive inclinations, he might even be an excellent candidate for some fourth line time on the right wing, allowing the team to put his talents to use on the blue line for the power play.
It is safe to assume that the Sharks will add some forward to one of the top three lines. Still, that might not push the team out of the seven-D lineup given the unit's strength.
This is one reason speculation existed about moving someone from the blue line. Demers is about the only player left who is likely to be moved, but there are not a lot of ways he will help upgrade the forwards anymore.
Assuming he stays in San Jose, Demers will get playing time when someone from either unit is hurt, when Murray needs a rest and when coach Todd McLellan decides to dress seven-D. That should be about 60 games.
The Rest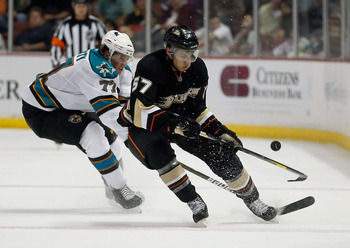 Jeff Gross/Getty Images
According to an assessment of each team's free agent needs on NHL.com, the San Jose Sharks need a No. 7 defenceman. But as I stated earlier this week, they only really need a No. 8 (the slideshow displays five options, four of which remain).
However, such a move is not imperative and the addition of a player (or trading of one of the previous seven) cannot be projected. San Jose may go into battle relying on some of their young talent: Taylor Doherty, Matt Pelech and Matt Irwin (in order) are really the only possibilities for NHL playing time.
Pelech and Irwin are about 25. Pelech has six games of NHL experience and may be able to fill in for a stretch without being a liability. Irwin has more skill to offer on the attack, but one reason he has not played in the NHL yet could well be a lack of trust in his defensive-zone responsibilities.
The hulking Doherty should be an asset on that end, but offers little offensive support. Just 21, his growth should outweigh any lapses his lack of experience bring.
Begin Slideshow
Keep Reading

San Jose Sharks: Like this team?