The prevailing attitude among followers of the San Jose Sharks (fans and media) is that they need major change.
The Sharks seem to be headed in the wrong direction. They were merely .500 in the 2011 Stanley Cup playoffs, finished with their worst regular season since 2003 and had the quickest playoff departure in franchise history.
But changing the core does not guarantee changing the results.
Thus far, my player report cards have covered five core players: Joe Thornton, Dan Boyle, Antti Niemi, Logan Couture and Patrick Marleau. Only one player in that group was deemed untouchable, but only one was deemed necessary to move.
Joe Pavelski, Brent Burns, Marc-Edouard Vlasic and Ryane Clowe are certainly also core Sharks. Martin Havlat and Douglas Murray could be considered core players, but are left out intentionally: Havlat has not been an important piece in San Jose, while Murray is an asset on only one end of the ice and presumed to be on the decline given his age and physical play.
Starting with the most important of the five reasons to keep most or all of the Sharks core intact...
Talent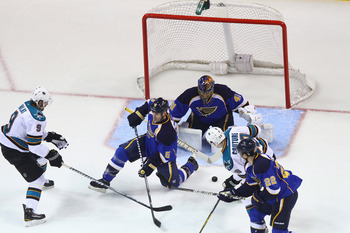 Dilip Vishwanat/Getty Images
The San Jose Sharks possess enviable talent in their core. It was also not the core that failed this season.
Joe Thornton played in every game and was an asset on both ends, leading the team in takeaways (96â€"behind only three players in the NHL), points (77) and assists (59).
Joe Pavelski is the best player in the league on draws, the Sharks top shot-blocking forward (84) and its second-best on takeaways (73). He should be a Selkie finalist with those numbers, his team-leading plus-18 rating and 20:36 ice time over 82 games. But he also was tied for the team lead with 31 goals, adding 30 assists.
Dan Boyle is staving off age, ranking seventh in the NHL in average ice time (25:34). His 39 assists led the blue line and his 21 takeaways, nine goals and plus-10 were second. Even though he placed only third on his team in blocked shots (137), that was top-50 in the NHL.
Logan Couture is a rising star. Marc-Edouard Vlasic had a career year. The Sharks traded for Brent Burns and signed him to an extension because they view him as a blue line stud coming of age, supported by him being the team's best defenceman in the 2012 playoffs.
The only core players who had disappointing seasons were Antti Niemi, Martin Havlat, Ryane Clowe and Patrick Marleau. Any of them are at the very least legitimate starter/top-6 forward talents and have shown they can take over playoff games.
That means the top half of both healthy units for San Jose has All-Star talent and depth. The Sharks' problem was not having a third line and carrying one weak defenceman, not its core.
The San Jose Sharks veteran members of the core...
Familiarity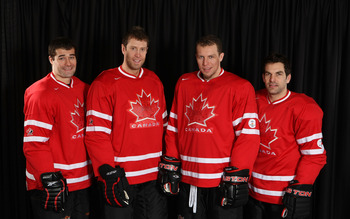 Don Smith/Getty Images
...Dan Boyle, Patrick Marleau and Joe Thornton have benefited from sharing ice with one another since the San Jose Sharks acquired the stud defenceman in the summer of 2008.
The Sharks spend most of their ample power play time each year with all three on the ice together. They have all been healthy enough to log a lot of shifts. Patty and Joe also spend most nights on the same line, and the situations you put a scoring line out for tend to be the same ones you put an elite offensive player out on your blue line for.
Even Team Canada, the greatest hockey team in the world, took advantage of the three players' (plus Dany Heatley's) chemistry, relying on them almost as much as Sidney Crosby's line in key situations.
Jumbo Joe also has chemistry with Li'l Joe, as Pavelski has clicked on the power play and now at even strength with the top-flight play-maker. Logan Couture has developed chemistry with Ryane Clowe and even Martin Havlat.
Brent Burns and Marc-Edouard Vlasic could be top-three defenders for the rest of the decade, and compliment each other. They should develop into an elite pair. (They should never have been split upâ€"I still do not understand putting your two best skaters on one pair and your two biggest players on the other.)
Antti Niemi has already won a Stanley Cup, and could have been a Vezina Trophy Finalist in 2011 for his exceptional play, appearing in 37 of the team's last 38 games. He was not the problem in this year's playoffs, and is early enough into his career to get better.
Nemo also seems to need more than most goalies to understand his blue line to play his best. The only prolonged struggles he has had were after first joining the team in 2010 and then rejoining it (with two new players on the blue line) a few games into 2011.
Not many NHL teams have a combination of talent and chemistry, and that is why...
Accomplishments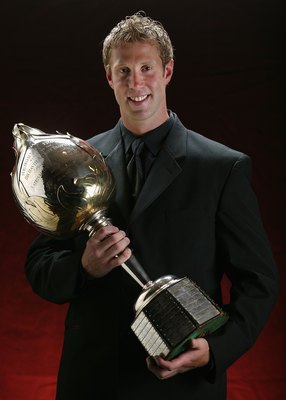 Harry How/Getty Images
...The San Jose Sharks have become quite accomplished. Among those players included in the San Jose Sharks core, there is a Hart and Ross Trophy, Stanley Cup ring, many All-Star appearances, three golds and one silver medal just in the last seven seasons.
The team has five division titles, three conference finals appearances and 12 series wins over the last eight seasonsâ€"all second in the league over that time. Only one member of the current team was involved in all eight seasons, but only Brent Burns was not around for at least one third-round battle.
In other words, this core has experienced personal and team success together. They have proven they can get a team deep into the playoffs, and there is no reason to think they cannot again because...
Age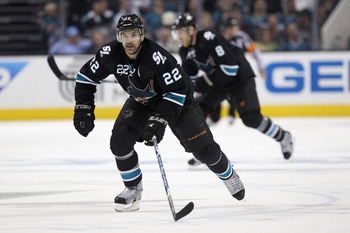 Ezra Shaw/Getty Images
...Most of the San Jose Sharks are right near the peak of their careers.
The only core player older than 32 is Dan Boyle. As previously mentioned, Boyle has not broken down with injuries, reduced workload or production.
His 213 points over the last four seasons are higher than any four-season stretch in his career. Last season's 48 points were only 10 fewer than his 2009 peak in San Joseâ€"on a team that plays a more defensive game.
Even if Patrick Marleau and Joe Thornton will both begin next season at 32 years old, they have plenty of good hockey left in them and have thrived under Todd McLellan. Antti Niemi, Brent Burns, Ryane Clowe and Joe Pavelski have probably not even peaked yet.
And if Logan Couture can stay healthy, he just finished his second full season of a Hall of Fame career.
With none of these players showing decline (a bad season at 31 hardly qualifies), does it really make sense to break up a core as accomplished and talented as this? Especially given that...
Return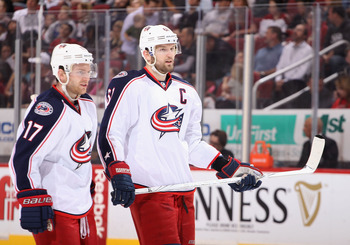 Christian Petersen/Getty Images
...The San Jose Sharks are still old enough to need to win now. As a team a year removed from a second consecutive final four appearance, they are still close.
To get game-changing talent, they will have to give up on the young talent from the core. If they fail, the franchise will be crippled long-term.
The problem is that the only teams in the market for the older players on the Sharks core are the one who want to win right now. Thus, they cannot give up more than they get in the immediate, so the Sharks won't get better in the short-term.
San Jose lacks draft picks and prospects to offer. They have plenty of talent that is just barely good enough to be active somewhere in the NHL, but most of those guys show little promise of ever being impact players.
About the only trade-able talents that might be in demand are Jason Demers, Martin Havlat and Ryane Clowe. Demers is coming off an unimpressive season, Havlat had more injury and consistency problems than usual and Clowe provides a personality already running short in San Jose.
In other words, teams do not trade players who will improve the Sharks' core for things San Jose can afford to lose.
Unless there is a trade that will improve the team on the short-term without selling young assets, there is not enough incentive to pull the trigger. Elite free agents rarely bring results that warrant their contracts.
The team's best chance to win the Stanley Cup in the next couple seasons is with this core. They might as well play it out.
If it does not work, trade them at the deadline in the final season of their current contract or just let them walk. Start over with Logan Couture, Joe Pavelski, Brent Burns and Marc-Edouard Vlasic (plus possibly Antti Niemi) and use your immense cap space to reset the team around them with new direction.
Begin Slideshow
Keep Reading

San Jose Sharks: Like this team?