Quite frankly, Bruce Arena's Los Angeles Galaxy are finding really creative ways to lose matches. Watch your back, Toronto FC and Philadelphia Union, the Galaxy are on a cold streak too and have no signs of letting up.
This won't determine the SuperDraft race, but it does make things interesting. On Wednesday, the Galaxy surrendered three goals in about 20 minutes to Frank Yallop's San Jose Earthquakes, capped off by L.A.'s answer to Mike Magee in Alan Gordon, in their 3-2 defeat at the Home Depot Center in Carson, Calif.
Well, every loss adds up, and once again, the player ratings are impacted. Let's take a look at this.
Brian Perk: 1
Now, someone explain to me why Brian Perk is even starting as Los Angeles' goalkeeper? He can't stop penalties, he can't stop good set pieces and he gets beaten on a one-on-one by Alan Gordon.
This is not a primetime goalkeeper. Maybe the Los Angeles Blues can use this player between the pipes. Arena should have started Bill Gaudette after Perk stunk it up in similar fashion against Chivas USA.
The Galaxy, once again, are paying the price for seeing a decent keeper in Josh Saunders succumb to alcoholism.
Sean Franklin: 4
Did well to break up possession for the majority of the match, but simply ran out of gas when it mattered most. He wasn't the only one.
Highlights.
Bryan Gaul: 5
This is a much better center back than David Junior Lopes. Held his own quite nicely, but needs to be able to pull it out for a full 90 rather than a partial 74.
A.J. DeLaGarza: 6
Mr. Consistency on the back line strikes again. However, DeLaGarza gets minus points for hesitating on the Gordon goal.
Hector Jimenez: 1.5
Forget about the goal he scored in the third minute of play. His studs-up tackle on Steven Beitashour in the 59th minute was a clear example of his inexperience and lack of maturity. I don't care how much or how little experience you have, committing these types of brain explosions is unacceptable.
Jimenez's red card changed the dynamics of the match between Los Angeles and San Jose and his presence will be missed when the Galaxy face Houston this weekend.
David Beckham: 5.5
I will elaborate on my piece that focuses on L.A.'s No. 23 later this week, but the bottom line is this: I still don't understand why the media is begging Stuart Pearceâ€"on their hands and knees, no lessâ€"to call up David Beckham to Team Great Britain.
It's madness. I have been on the "No Beckham in London" camp for quite some time, and after Becks' leadership failed him on Wednesday (he even had a yellow for a handball), I am firmly entrenched in my own judgement regarding this matter.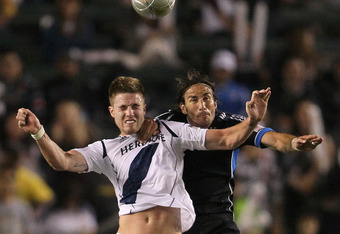 Victor Decolongon/Getty Images
Juninho: 4.5
Had a long-range shot from 38 yards that could have made it 2-0 Los Angeles at the half. Also was effective in breaking up play and causing confusion for a majority of the game. Didn't do enough of it, though.
Mike Magee: 5.5
Gets bonus points for his goal in the 73rd minute that had plenty of English on it. The way Mike Magee handles the ball when he has an opportunity to score makes him effective. He can't do it all by himself, though.
Chad Barrett: 3
Never was a factor in the match and needed to get more looks on goal. Then again, it may have been good that he didn't get more looks on goal because we all know the eventual outcome of Barrett's attempts on goal. (Hint: high, over the crossbar, wide left/right...)
Edson Buddle: 2
This is how your play gong-show football: bad touches, half-hearted attempts as dispossession, wasted chances...you know, Edson Buddle couldn't score in a brothel if he tried. But, on the other hand, not being able to score in a brothel is essentially a basic fundamental when playing gong-show football. And Edson did just that.
Kyle Nakazawa: 2
Hold it, hold it. This was not a very good substitution by Bruce Arena, who didn't even use all three subs this contest. If you are a man down, and you want to hold on to a lead, sub in another defender, like Leonardo, who was available. Kyle Nakazawa has not acquitted himself this year, and once again, he showed the 16,512 in attendance that he simply isn't ready to perform at this level.
Nakazawa is just one many players on the Galaxy first team that need to be shipped out later this season, so he's not the only one that is on notice this year.
Michael Stephens: NR
Came into the game late, no rating given.