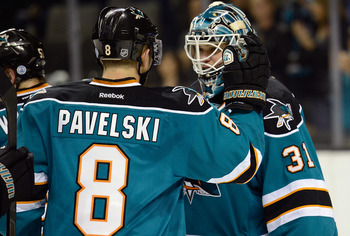 Thearon W. Henderson/Getty Images
Joe Pavelski is one of the best two-way forwards in the game. He should be a finalist for the Frank J. Selke Trophy given to the best defensive forward.
Defensively, he had 50 hits, 84 blocked shots (best among San Jose Sharks forwards), won 150 more faceoffs than he lost (third in the NHL) and had 73 takeaways (10th in the NHL) to 61 giveaways. That gives him a Defensive Quotient of 64.8. How does that compare to the three finalists?
David Backes: 226 hits, 72 blocks and 50 takeaways to 22 giveaways but lost 37 more faceoffs than he won for a DQ of 51.4. His hits are huge in open ice, but they only stop one attacker and often may not get you the puck. In the defensive zone, Pavs will turn on a defensive possession into an offensive one.
Ryan Kesler: 108 hits, 59 blocks, plus-97 in the faceoff circle and just 43 takeaways, but only 20 giveaways for a DQ of 56.9. Kesler may not be great at stealing the puck, but he can defend in all three zones and any situation. His numbers were hurt slightly by missing five games because the DQ factors in total numbers, giving weight to those who the team can rely on.
Pavel Datsyuk: 76 hits, just 31 blocked shots but plus-115 in the circle with a league-leading 97 takeaways (one more than Joe Thornton) with only 40 giveaways (55 fewer than Thornton, but also 11 fewer assists) for a DQ of 64.9. The fact that he edged out Pavelski despite playing in a dozen fewer games tells you just how good he is.
Of course, Pavelski is not just a defensive dynamo. He was tied for the team lead in goals (31), his 30 assists were fifth on the Sharks. Not surprisingly, his Offensive Quotient (also defined at the above link) was 48, a hair behind Dan Boyle for fifth in San Jose.
He is accountable, comes up in big situations and is tough: Pavelski struggled in the playoffs, but was battling thumb, foot and knee injuries.
He never went more than eight games without a goal or five without a point and was an elite defender. That is why he led all Sharks forwards in ice time.